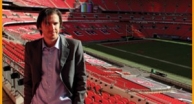 One of the best in the world does not descend to the lawn
Economic Journal interviews Paulo Rebelo.
Isabel Lucas, 20/12/2011 09:40
Link to the original news article (only in Portuguese)
At the age of 28, Paulo Rebelo lives between Porto, Madrid and London and he wins in the online sports betting market what only a few "traders" can win in the traditional stock market.
It is not luck. It's science. It is not technique, it's the study of the law of averages. And there is no passion, there is only cold-blood and full concentration.
Paulo Rebelo has 28 years, drives through the streets of London leading from Heathrow Airport to Wimbledon Stadium but the accent is from Oporto. There will be no match today, but is with that scenario he has worked for four years, since he left the stock markets for the online sports betting exchange.
Without revealing his income, admits earning more than a senior executive of a large company, he does not follow other schedules than the matches with which he decides to work. He has time left to travel, play PlayStation, be with family or play football with the friends.
When asked exactly what he does, he answers: "My job is to watch a football game and translate it into probabilities."
When his father wants to explain to others what does his son, simply says that he works in the Internet. Because he cannot understand and most people can't either.
How does, by the age of 28, someone can earn enough money to have a house in London, another in Madrid, another in Oporto, and several sports cars. All without taking your eyes of a football game and hooked to a computer.
Paulo Rebelo is a trader, a manager of financial assets registered in the British bet exchange Betfair and applies to football the same rules and experience accumulated during eight years working in the stock market.
First he tried horse racing, tennis, basketball, but he decided to specialize on football. It was what allowed him to earn more money, the one sport where he could join the market liquidity with his knowledge accumulated over years as a fan. It was in soccer where the degree of sacrifice to achieve gain was lower.
A scientist of bets
He became a specialist in a type of game. "My philosophy is that of specialization," he stresses. There he calls himself a scholar, a scientist of bets, someone who looks to the smallest detail and seeks different strategies to make money.
Post a hypothesis, test it and eventually validate or simply reject it. And plays with other people's money to reduce his risk almost to zero.
That's right. Paulo Rebelo makes money selling the stakes of the others, those who trust in their science, not on instinct, that Paulo does not like to call it instinct or luck.
He is a professional, he remembers. "Unlike punters, the traders do not earn money with the bet, they win the variation of the bet's value", he explains. That's why he works in 'full time'.
He analyzes a game and disassembles it in odds. He studies the market and predicts its behavior.
Whether a team is having a winning path. Whether the market is betting on it.
Paulo chooses the game to work with, reads everything he can about it and just before the match begins, he seats in the swivel chair in front of the screen he has at home. This is where everything happens.
Yesterday (on the timing of this interview) was the match Benfica vs Basel, but Paulo Rebelo turned on the TV in Real Madrid vs Lion. That was the game he chosen to work with. Reason? There are more viewers, so more money to run between the universe of 'online' gamblers.
Paul does not reveal how much he earned in that game, where he may have given a thousand purchase and sale orders. "It's not just the result that matters or that generates money. All incidents in the game allow liquidity, all variables enter into the reasoning of the gamblers. If the team is attacking, if the players are motivated or not, if the coach is new." He said without taking his eyes off the road, exactly as when you have the eyes on a giant screen where the fool is who thinks he is just a viewer addicted to the game.
Benfica makes the adrenaline to rise and the profit to drop
Blunder. "I rarely bet on Benfica," he confesses. Besides having less money on betting markets than another team from the English Premier League or Spanish La Liga, those leagues that generate more revenue by being broadcast over the entire world, Benfica is favorite club of this young man from Porto. He remembers that emotion is not a good counselor, or in a more technical language, the emotion does not maximize profit.
"The adrenaline levels rise and lack the coolness in the decision. Benfica have made ​​me lose a lot of money", he says with a yellow smile stamped on the rear mirror, resembling an error of the "friend" Roberto, the goalkeeper, who left the ball enters the goal and the match ended in a draw, and Paulo ended losing two or three thousand euros, if he recalls well.
If he forgot, he has a post on his website to remind him of that "bad luck" match or "miscalculation" from the Champions League, "relatively small stake" comparing to the one he often uses, he notes.
So, luck and chance, the only 'chickens' of the goalkeepers. Then it come along other variables to prevent not to throw everything away.
Without revealing how much he earned in less than two hours of yesterday's match Real Madrid vs Lion for the Champions League, he says his latest record: 36 000 euros that went straight to his account in Porto, where one day he like to be without having to travel every week to be closer to the place where things happen and have quick access to information about the games he works with and be as fast as possible to give buy and sell orders.
For the dream of staying in Oporto to fulfill, it would necessary that the Portuguese League was more competitive, there were more people to see its matches, so more bets and money to run, and that the activity was regulated in Portugal.
Contrary to what may seem, Paulo Rebelo does not feel a bit tainted by the cosmopolitanism of London or 'la movida' from Madrid.
To ethnic restaurants he still prefers the steak with potatoes and rice made ​​by his girlfriend. Nor does he change a soccer match with friends for a trip to Carneghie Hall.
"I have simple tastes", as if he had to justify to someone from the bet exchange where he is registered and considered one of the best online gamblers in the world. Meaning he don't have to worry too much about the liquidity of his accounts despite some expensive tastes, as the cars he has to fill the garages and made him to have the mechanical contact as one of the most precious of his phone book.
MARKET FOR ALL BUT NOT FOR ANYONE
He says the work has changed his personality. Undisciplined, nervous, excitable, became quiet, disciplined, emotionally controlled. It was the only way to win money, take seriously this job which requires cold blood. The money was his goal, the only way to have the life quality he wanted without having obey to schedules and bosses and still have time for himself and the things he like.
Besides understanding the sport, one must understand the market. He explains that referring to the website that he created to publicize and promote the career of a Sports Betting Trader, a small handbook of behavior for players beginning their careers, for those who already follow his advice since long ago.
In www.paulorebelotrader.com/en there are game reviews, betting tips, prognoses, exciting betting stories and experiences that might stay in history of the world of online speculation.
When he finds what he calls a "positive expected value match", he shares his analysis with the community (in www.PauloRebeloTrader.com/forum). It generates money from money and gets to know that "by now, the profitability of Paulo Rebelo's prognoses is 1407%." "This means that whoever opened the account through our website and betted always 30 euros, has already earned 422.1 euros."
(Only in Portuguese) Printed version of the Economic Journal, 2011 December 9: